Detailed Information:
[in PDF format]

5ft-2in Bunker Silo Tee
6ft Bunker Silo Tee
6ft Bunker Silo Tee (L)
8ft-6in Bunker Silo Tee
10ft-6in Bunker Silo Tee 72′
10ft-6in Bunker Silo Tee 96′
12ft Bunker Silo Tee
14ft Bunker Silo Tee
16ft Bunker Silo Tee (T)
16ft Bunker Silo Tee (L)
Fenceline Bunk
Calf Fenceline Bunk
High Capacity Fenceline Bunk
8ft Slatted Panel
10ft Slatted Panel
12ft Slatted Panel
High Flat
Crop Storage
Precast Concrete Bunker Silos
Crest Precast Concrete offers freestanding Tee walls for Corn & Hay silage and they may be used for storing any bulk material. These sections are manufactured with 6,000 psi concrete and sections are solid thru out to provide a very durable product. Units are reinforced, engineered and manufactured to the highest standards.
Note: Bunker silos are constructed to be filled to the top with a only a small angle of repose, overfilling can be dangerous and also exceed engineering.
Other dangers of bunkers can be from tipping of equipment while packing, and cave in of materials while unloading and undermining the stack. Only educated operators should perform work in and around bunker silos.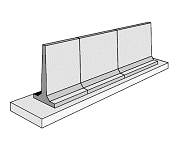 Contact us for estimates and drawings.